What a year!! In case you've missed any updates on Twitter or this blog, here's a run through of our team's personal highlights from 2019.   
1. The What Works family grew to 13 members
Over the past year, we've had four brand new organisations join the Network: the Centre for Homelessness Impact, the Youth Futures Foundation (YFF), the Youth Endowment Fund (YEF) and the Centre for Transforming Access and Student Outcomes (TASO). Welcome to the family!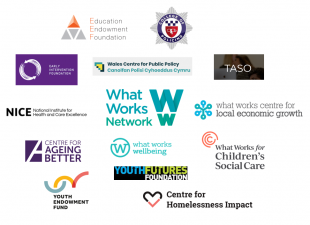 2. Our National Adviser, David Halpern, was reappointed for another three years
We're delighted that David Halpern, the What Works National Adviser, will be with us for another three years. You can read more about his journey so far and his vision for the next three years in this interview. 
3. NICE turned 20 
The National Institute for Health and Care Excellence (NICE) inspired the What Works Initiative and was a founding member of the network. Check out this blog on how NICE has influenced a new generation of evidence institutions. Happy 20th Birthday!
4. We delivered evaluation advice to 36 projects across 14 departments in the past 12 months
In January, Emily Power joined the team as our Evaluation Lead and launched a rapid advice service for departments. Emily also coordinates our What Works Trial Advice Panel, which brings together evaluation experts from across Government and academia to provide a free advisory service for all civil servants. 
5. We trained over 1,000 civil servants across the UK on evaluation methods
From new graduates embarking on their Civil Service career to HMT spending teams who scrutinise departmental bids, we've helped civil servants understand how to measure impact of their policies and programmes. 
The What Works Centres have also provided their fair share of evaluation support to government departments - including, to the £98m Healthy Ageing Challenge Fund (Centre for Ageing Better), the £11.5m Building Connections Fund and £1.9m Carer's Music Fund (What Works Centre for Wellbeing) and the £84m Strengthening Families, Protecting Children Programme (What Works for Children's Social Care).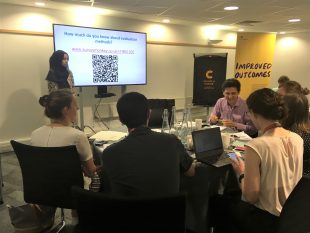 6. We've gained new insights into what works in public services 
The centres have transformed our knowledge of what works in frontline services - from finding that Intensive Family Preservation Services safely reduce the need for children to enter the care system to finding that mindfulness improves police wellbeing, resilience, and performance. 
The Education Endowment Foundation (EEF) hit the 200+ evaluation mark this year, with 14,000 schools and 1.5 million children involved. The What Works Centre for Children's Social Care has achieved a ten-fold increase in the number of robust trials in children's social care in the space of just a year! 
7. We've supported local services 
We're reaching more local services than ever before. Over two thirds of local authorities are now participating in projects run by What Works for Children's Social Care. The EEF has expanded its research schools network from 22 to 39. The Centre for Homelessness Impact launched their What Works Community pilot, to help local authorities improve their use of evidence and data. 
8. We're helping grow the international community 
We've provided regular advice and support to overseas governments interested in replicating our work, including governments in Canada, the US and Australia (for international developments, see our most read blog of the year).
Meanwhile What Works Centres have attracted growing international interest. The EEF established partnerships with the Queen Rania Foundation and Effective Base Services Africa (eBASE) to adapt their Teaching and Learning Toolkit for different education systems. Whilst Down Under, the Early Intervention Foundation (EIF) has translated its work on the cost of late intervention to the Australian context.
9. The What Works network has shaped national policies and programmes
EIF's work on activities that support child development informed the Department for Education Hungry Little Minds campaign. The Wales Centre for Public Policy's reports on Tackling Inequality through Gender Budgeting and Gender Equality – Learning from Nordic Nations formed part of the Gender Equality Review commissioned by the Welsh Government. The Education Secretary reaffirmed the government's commitment to the Pupil Premium and recommended the EEF's spending guide for schools. 
10. We've seen the launch of multiple cross-network projects
Thanks to funds made available by the ESRC, the Centres came together to support evidence-based policymaking in disadvantaged places. The EIF and EEF teamed up to provide evidence-based guidance on social and emotional learning in primary schools. The Wales Centre for Public Policy brought together Centres and stakeholders to test ways of engaging devolved administrations more effectively. Bigger collaborations are planned for  2020 - watch this space!
11. The network has expanded its grant making activities 
The Youth Endowment Fund announced their first round of grants, committing £16.2m to 22 projects. These will tackle youth offending through early intervention, supporting over 30,000 children. EEF added three new programmes to their list of Promising Projects bringing the total to 19. 
12. Finally, we were shortlisted for a Cabinet Office Award!
Our team was the runner up for the Skilled People Award at this year's Cabinet Office awards, recognising our work in promoting evidence use and generation across the Civil Service. A great end to a productive year!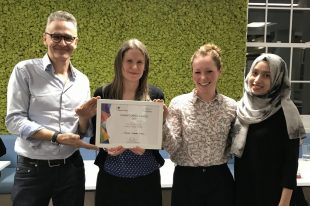 See you in the new year!